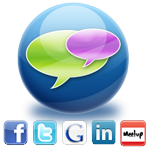 Social media is becoming increasingly more crucial for websites and business of all types. We teach the science of social media clearly, quickly and effectively.  Our training covers everything from a basic introduction to social media to building, managing, reporting and profiting from your social brand.
Social Media Training Courses
Learn how and why to use the web's most popular social networking services. Discover why social media is crucial to your online marketing strategy and why you can't afford to miss out on this opportunity.

Social Media 102: Setting Up & Managing Profiles

Learn step by step how to create and manage profiles on popular social networks like Facebook, Twitter, LinkedIn, YouTube, Manta and more. Discover how to create and optimize your presence on social networks the right way. Understand hashtags, tagging, categories, connecting networks and more.

Social Media 201: Marketing & Analysis

Now that you understand how to create and manage your social media presence, now you need to measure your progress and make improvements towards greater results. Learn Facebook Marketing, Facebook & Twitter Reporting, LinkedIn Advertising and more.
We instruct about the following services: